Our Ambulance Services are here to provide quick and dependable medical assistance during emergencies. This team of trained professionals is ready to help in different medical situations. Our main goal is to make sure you get the best care possible. We have ambulances stationed in strategic locations so that we can reach you as fast as possible. Our caring staff understands how scary emergencies can be and are here to support you. We also work closely with local healthcare providers to coordinate your care. Trust us to be there when you need help right away. 
Why Ambulance Services Important
Ambulance services are crucial in our communities, providing vital assistance in emergencies. Here's why they are so important:
Quick Response:
 Ambulances are equipped with life-saving equipment and staffed by trained medical professionals who can rapidly reach an emergency scene. Their swift response can make a significant difference in saving lives and reducing the severity of injuries.
Immediate Medical Care:
 Ambulances are like mini-hospitals on wheels, carrying essential medical supplies and equipment. They provide primary medical care, such as administering first aid, monitoring vital signs, and stabilizing patients before reaching a hospital. This prompt intervention can significantly improve outcomes.
Safe Transportation:
 Ambulances are specially designed vehicles equipped to transport patients safely to healthcare facilities. They have the equipment and trained personnel to ensure a smooth and secure journey, even for critical patients requiring advanced life support during transportation.
Expertise and Skill:
 Ambulance crews consist of highly trained paramedics and emergency medical technicians who possess the skills and knowledge to handle a variety of medical emergencies. Their expertise ensures that patients receive appropriate and timely care, increasing the chances of a positive outcome.
Time-Critical Emergencies:
 In situations like heart attacks, strokes, or severe injuries, time is of the essence. Ambulance services allow quick access to specialized medical care, enabling timely interventions and potentially preventing further complications or loss of life.
Support and Comfort:
 During emergencies, ambulance crews emotionally support patients and their loved ones. Their presence and reassurance can help alleviate fear and anxiety, creating a more calming environment amidst the chaos.
Coordination with Healthcare Providers:
 Ambulance services work closely with hospitals and other healthcare facilities to ensure seamless coordination and continuity of care. This collaboration allows for a smooth transition from pre-hospital care to specialized treatment, improving overall patient outcomes.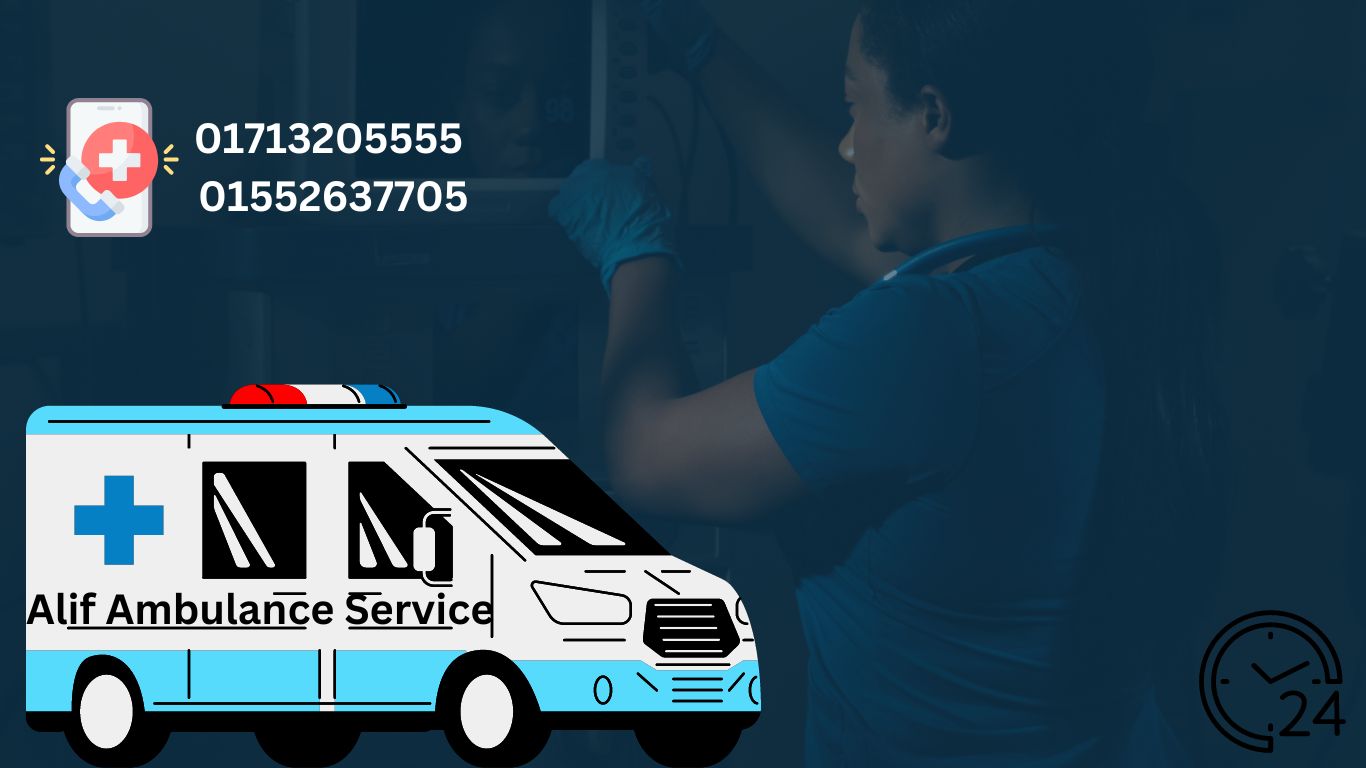 Ambulance services are essential because they offer immediate medical assistance, safe transportation, expertise, and support during emergencies. They save lives, provide critical care, and ensure patients reach appropriate medical facilities quickly and safely. The presence of ambulance services in our communities is a testament to our commitment to health and well-being.
Our modern and well-equipped ambulances are ready 24/7, strategically stationed across [location/city/region]. Whether you require transportation to a hospital, medical facility, or even long-distance transfers, we have the resources and expertise to meet your needs. Our ambulances are equipped with cutting-edge medical equipment and technology, ensuring we can deliver advanced care right at your doorstep.
What truly sets Alif Ambulance Service apart is our team of highly trained professionals. Our paramedics, EMTs, and emergency medical specialists undergo extensive training and are well-versed in handling various medical emergencies. They bring a wealth of experience, skill, and compassion, ensuring you receive the best care throughout your journey with us.
We believe in a patient-centric approach, treating each individual with respect and empathy. Our professionals understand the stress and anxiety that can accompany emergencies and strive to create a calm and supportive environment for you and your loved ones. Your comfort and well-being are our primary concerns, and we go the extra mile to ensure that you feel safe and secure in our care.
Alif Ambulance Service is committed to making quality emergency medical transportation accessible to all. We understand the financial strain that emergencies can bring, so we offer competitive pricing options without compromising on the quality of our services. Everyone deserves timely and reliable healthcare, and we are dedicated to serving our community with integrity and compassion.
Contact Alif Ambulance Service today to experience our exceptional care when you need it the most. Our friendly and knowledgeable staff are available around the clock to answer your questions and provide assistance. Save our contact information for peace of mind, knowing we are just a phone call away.
Trust Alif Ambulance Service to be your reliable companion in emergency medical transportation. Your safety and well-being are our top priorities, and we are honored to serve you during your time of need. Together, let us navigate emergencies with care, compassion, and unwavering support.
Adress:76/A, (A1) Ahmed Plaza, Paschim Panthpath, Bir Uttam Kazi Nuruzzaman Road, Dhaka-1215
Phone no:01713205555 01552637705
email:[email protected]